Vibrant StreetPower Flat Black Muffler Install – 1997 Civic Coupe
Released in 2005  the Vibrant Flat Black Oval muffler  has become a street favorite due to it's sleeper look and track proven straight through design.
Manufactured from T304 Stainless Steel, Vibrant STREETPOWER FLAT BLACK muffler features a high temperature flat black coating that gives it an OEM stock look and helps you avoid unwanted attention. The universal mufflers are equipped with "True Straight Through" perforated internal cores that are densely wrapped with premium sound absorption materials for unrestricted exhaust flow and a low, deep exhaust tone.
In this project we install the iconic Vibrant StreetPower Flat Black muffler on a 1997 Honda Civic Coupe "Ek".
1997 Honda Civic Coupe
The tried and true Yonaka catback on our 1997 Honda Civic Green Machine was beginning to show it's age. For many years the Yonaka has proven to be a quality, budget friendly, catback exhaust solution. However recent years of track and autocross abuse have degraded the sound absorption material to un-streetable levels.
Vibrant's universal mufflers require a custom installation to attach to existing pipping, NOT BOLT IN INSTALL.  Installation requires cutting and welding to mount the muffler.
1. Remove exhaust axle back assembly. As the new muffler must exit in same location, compare position of mufflers. Align side by side aligned at muffler tip to determine the needed pipping extension to install.
2. Using metal cutoff wheel, cut off existing muffler hangers. Hang on exhaust rubber mounts.
3. Using Sawzall (or similar) cut off original muffler as close  as possible to connecting pipping. Cut off pipping between tip and muffler. this will be used as an extension to the new muffler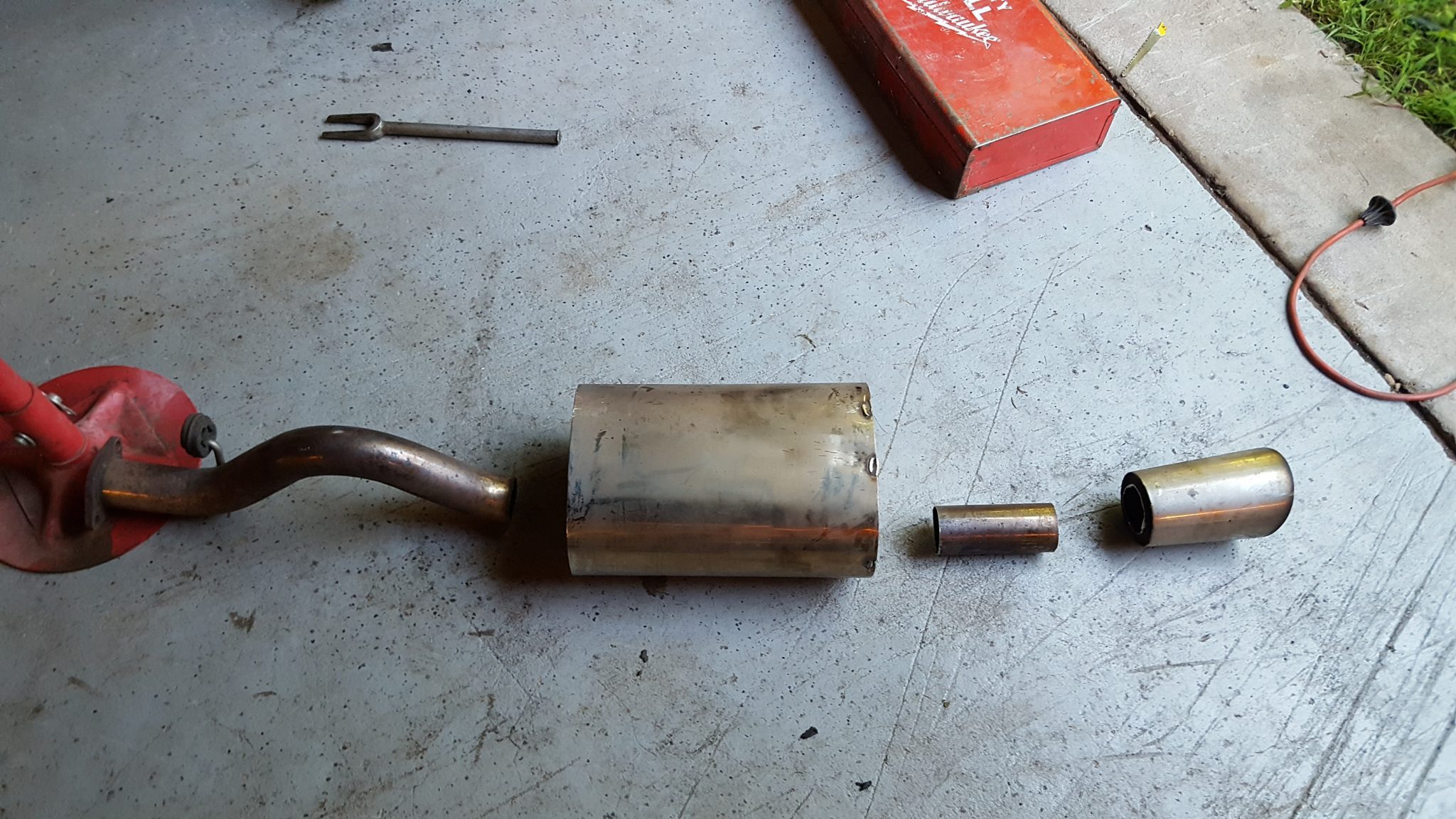 4. Support muffler in place. Mark location of hangers on muffler. Sand off paint where hangers need to be welded to muffler. Slip extension in rear of muffler. Tack muffler to hangers then tack extension to muffler and existing pipping.
4. Carefully take down muffler. seam weld all connections
5. Reinstall using new 3-bolt 2.5" gasket. Check for leaks.
Keep Wrenching !!